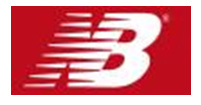 The latest New Balance shoe is NOW at Comfort Wide Shoes!!
Women's Neutral Cushioned Running Shoe. Model: WMORGC
The Fresh Foam More innovative midsole created from a single piece of foam, provides a lower offset with substantial heights of plush Fresh Foam cushioning. The result: a more natural-feeling fit with premium, next-level comfort. Lace up this lightweight, highly cushioned women's running shoe for a smooth, highly cushioned ride. Available in EXTRA WIDE!!!
Weight: 231 grams (8.1 oz)
You MUST come into our San Diego Showroom the Try-on a Pair Today!!!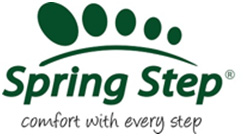 L'ARTISTE
MELISSA SANDAL
DETAILS
French inspired, multi-color hand-painted color blocked leather triple strap
adjustable sandal.
Heel Height (approximately): 1 3/4" wedge, 1/2" platform.
Features:
- Round toe, multi-color hand-painted leather, cutouts and brushed bronze metal
floral ornaments.

- Adjustable hook-and-loop triple straps.

- Synthetic leather lining.

Note: L'Artiste products are made with natural tanned leather using traditional hand painting techniques. This unique finishing process is used to create a natural effect with color variations to deliver authentic look and beauty.

Introducing the Propet Travel Active Stretch
The Propet Travel Active Stretch is a brand new addition to this fine comfort shoe company. It features a unique stretch knit upper that conforms to bunions, hammertoes and other foot anomalies. It is also the perfect shoes even if you don't experience any of the aforementioned ailments. As the soft stretch knit makes every step effortless and care free!! Super lightweight cushioned EVA soles provide superior shock absorption. Available in Extra Wide Widths. Stop into our San Diego Showroom and try on a pair today!
SAVANNA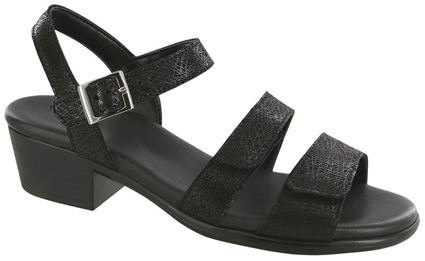 Savanna
Classy, stylish, and comfortable on Saturday afternoon shopping trips, Savanna sports eye-catching leather with the comfort of a leather lining, adjustable straps for a quick on-the-go fit, and a stability outsole providing cushioning and support for an effortlessly confident stride. Great with a pair of shorts that have a pop of color.
Heel Height: 1.625".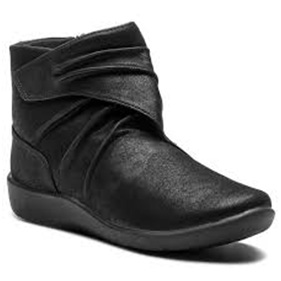 NEW FROM CLARKS: SILLIAN TANA BOOTS
PRODUCT DESCRIPTION:
The Clarks Sillian Tana Ankle Boot will become a staple in your casual wardrobe. This low-heel ankle boot features a riptape closure at the top along with a hidden side zipper for easy on and off, and a removable OrthoLite® footbed with Cushion Soft™ technology for all-day comfort.
Part of the Clarks Cloudsteppers™ Collection
Cushion Soft™ technology
Removable OrthoLite® footbed
Antimicrobial, Moisture-wicking
Riptape closure AND Hidden side zipper
EVA outsole
Heel Height: 1 3/8"
Shaft Height: 3.93"
Circumference: 9.05"
Insole: OrthoLite®
Outsole: EVA
Upper: Synthetic


New from Propet! The Stability Strider
Check out these exiting features:
Mesh upper with micro fiber structured vamp and quarter
PU Insole with gel heel pad and cushioning ridges
Arch-supporting EVA midsole with rubber outsole for durable wear and traction
Very stylish, the very latest in sportswear
Extra Wide Widths
Come into our San Diego showroom and feel how nice these shoes feel!


THE NEW PROPET "GRADY"

Here's a shoe that's ideal for sporting around town. The retro look of this chukka boot is guaranteed to turn heads. Comfort and style in a wide width, the perfect combination!!
Check out these features:
Hi cut Supple full grain leather lace up.
OrthoLite® insole with open-cell PU foam for high-level breathability and moisture management.
Long-lasting sponge rubber outsole provides traction, durability and support. Extra wide widths!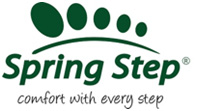 Introducing the New Carlotta from Spring Step



Trendy Mary Jane style leather clog with an adjustable upper strap and detailed with a patent inlay design all on a nature inspired wedge. Our customers love the easy on and off feature.

Features:
-Heel Height (approximately): 2 1/4"
-Platform Height (approximately): 1"

-Round toe, high quality full grain leather, adjustable strap.

-Euro sizing. Soft, full leather upper & lining.

-Smooth textile comfort padded insole that is removable to accommodate your custom othotics!

-Polyurethane with TPR insert outsole provides great traction and slip/skid resistance (not certified).

Please visit our San Diego showroom today and try on a pair of these amazing shoes!!!

THE PROPET "LADYBUG"
You're going to love to live in this versatile casual shoe from Propet. Crafted in fine leather, this shoe features a single Velcro strap closure for easy on and off, as well as allowing for that perfect fit. Removable foot bed allows you to replace it with your custom orthotics or your favorite OTC orthotics. We also now have an expanded line of Candence insoles that would work perfectly in this super fitting casual shoe.
Features:
Supple, full-grain leather with double removable insoles for customization
Single Velcro strap for additional fit adjustment
TPR outsole for cushioning, traction and durable wear
Extra wide widths
Stop into the Comfort Wide Shoes showroom and experience what all of San Diego is talking about as the best full service shoe store in town!!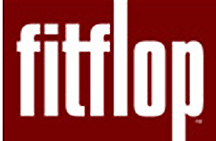 Deco-rate your feet. These gorgeous sandals, in glossy pearlised patent, feature shimmering clusters of oversized pearls and sparkling beads, with our legendary, supercushioned Microwobbleboard™ midsoles underneath. Perfect for a party...or anytime you need some extra fabulousness in your life.

Stop into our San Diego Showroom Today!!

A Great Work Shoe!!!
Product Details
The APMA-approved Stretch Plus is the ultimate comfort sneaker. Each component has been carefully designed to ensure optimal stretch, perfect fit, sturdy support, and the most cushiony steps. Our design team also cleverly reduced impact on knees by using a rounded heel. Available in WW black or white.
APMA Approved
Lace closure for ease and fit adjustability
PurefitTM comfort cushion arch
Ortholite® sockliner promotes perfect fit and comfort
Moisture wicking and odor control (barefoot/sock-free walking) with anti- microbial properties
Maximum comfort with slow recovery Impressions memory foam
Stretch smooth vegan leather upper
Rounded heel decreases impact on the knees
Additional padding at heel and collar for extra comfort
Flexible outsole designed to follow the foot's natural movement
Extended widths available
Removable footbed

Chase Wedge Suede
Product Details
This Chase is a wildly wearable wedge big on foot flattery and versatility. An all-stretch vamp allows for a custom fit while lush suede keeps things on the dressier side. The wedge heel has been carefully engineered to provide lift and support while still being sleek and lightweight—and wearing more like a flat than a heel. It's just the thing to give new life to your go-to denim and makes for an easy partner with dresses and skirts for more formal outings.
New and improved wedge outsole offers our most flattering and feminine fit with just the right amount of height
Ortholite® sockliner promotes perfect fit and comfort
Moisture wicking and odor control (barefoot/sock-free walking) with anti-microbial properties
Maximum comfort with slow recovery Impressions memory foam
Padded collar for extra comfort
Slip-on entry with a full stretch vamp for optimal fit
Suede with Textured Gore upper
Soft jersey lining
1.25" wedge heel
PurefitTM comfort cushion arch
Removable footbed

INTRODUCING "THE FOUNDER" BY SAMUEL HUBBARD.
This classic 5 eyelet oxford has an air of authority and complements a fine pair of dress slacks or your favorite tailored blue jeans. The genuine leather welting, the waxed laces and the refined eyelets highlight the soft leather uppers that require no breaking in. We finish the shoes with a satin wax but you can also bring them up to a brilliant shine with your own favorite shoe polish. The Founder is fully lined with cowhide glove leather and we don't use any glue between the uppers and the linings so that the shoe breathes naturally and the shoes conform to your foot.


The Founder comes with our triple density orthotic that uses Poron memory foam and a vegetable tanned leather covering which is healthier for your feet.The combination of soft leathers and our Hubbard Vibram soles make walking in these shoes as comfortable as your favorite running shoes. For the man on the go or for long hours sitting these light and springy shoes are the perfect Go to Work shoe.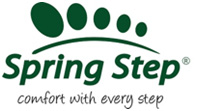 INTRODUCING SPRING STEP'S L WOOLIN
SLIP-RESISTANT WORK SHOE

Now here is a shoe to get excited about, the Spring Step "WOOLIN". Why, you ask? Because this is likely the most comfortable work shoe you will ever own. It's made from premium quality leather combined with the most shock resistant poly sole with a rubber slip resistant outer layer. They also have a removable insole so you can replace with your custom orthotics or, you can upgrade to one of our OTC (over the counter) orthotics that we sell in-store. Whatever option you choose, you're in for total comfort!! Of course, this shoe is stocked in WIDE! Come into our San Diego showroom today and take a look at this fine work shoe!!

INTRODUCING "LUCAS" FROM PROPET

Now here is a fashion forward Men's shoe crafted in genuine leather with removable insole that is available in EXTRA WIDE WIDTHS!! Available in Black or Brown.
FEATURES:
Burnished waxy leather upper with padded collar and tongue
Nylon mesh lining and removable cushioned EVA insole
Durable rubber cup outsole with side stitching

THE NEW JENNA FROM PROPET!

This classic style sandal is perfect for those who have othotics or just desire
the stability provided by an enclosed heel. Check out these great features:
Spring Step Style: Onaona
DETAILS

Spring Step Style: Onaona

Stylish slide sandal featuring multi-color floral print leather with laser cutouts on a texured nature-inspired wedge.
Heel Height (approximately): 2 1/2", 3/4" platform.

Features:
-Genuine leather upper, incorporated stretch elastic, textured wedge.
-Leather lining.
-Leather padded insole.
-Polyurethane outsole.

In a word, Stylish describes the new Onaona! Great looks combined with comfort features, will make this a stand-out in your wardrobe! Come into our San Diego showroom to try on a pair today!
easy WORKS by Easy Street
Introducing the Easy Street Works Comfort Clog, an extremely lightweight and comfortable slip-resistant shoe, at a very reasonable price. Available in white, black, blue ripple and bright multi.
Product Features:
Round-toe slip-on clogs
High-density foam contoured insole, anti-microbial removable insole, arch support and generous toe cap for added comfort
Lightweight and flexible manmade upper for easy clean-up
Slip-resistant channeled rubber outsole helps add stability on a variety of surfaces
1-3/4" heel
Manmade upper; manmade sole



WHAT DOES THIS MEAN TO YOU?
In a word….SERVICE! This is the symbol of the professional shoe salesperson. As you wander from shoe store to shoe store in the mall, you just won't see one of these. Why, because service has become secondary at most stores. You pick a shoe off the rack, or just request your size. No measuring, no fitting, just selling.

How can someone really get a good fit in such an environment? Now, if you throw in the added challenge of trying to fit in your own othotics, or just have a wider foot that requires a wide width for proper fit, then it is almost impossible. But there is a solution!!! Shop at Comfort Wide Shoes, and let our professionals fit you in the right style and size to fit your needs! Got orthotics? Leg brace? Not a problem at Comfort Wide Shoes! We will measure your feet, listen to your concerns and do our best, to get you into a comfortable and great fitting pair of shoes. Come in today, and let us give you the service you deserve!!
NEW! MENS SANDALS FROM SAS
SAS INTRODUCES TWO NEW SANDALS FOR MEN
THE ENCORE & VOYAGER!
AFTER SEVERAL YEARS OF DEVOLOPMENT, THE SAN ANTONIO SHOE COMPANY HAS LAUNCHED TWO NEW STYLES OF MENS SLIP-IN STYLE SANDALS. MADE WITH FULL LEATHER UPPERS, THEY FEATURE INSOLES WITH A CONTOURED ARCH SUPPORT AND ARE EXTREMELY COMFORTABLE. THEY ARE ALSO EXTREMELY GOOD WEARING DUE TO THE RESILIENTPOLYURETHANE SOLES. OF COURSE WE HAVE THEM IN WIDE WIDTHS IN STOCK FOR YOU TO TRY ON TODAY!
SANDAL PERFECTION!!!
THE SAS LAGUNA, CLASSIC GOOD LOOKS AND SUPREME COMFORT!!
INTRODUCING THE NEW LAGUNA FROM SAN ANTONIO SHOES!! THIS NEW STYLE IS BUILT ON THE COMFORTABLE NUDU BOTTOM WITH FASHIONABLE CROSS STRAP UPPERS. THICK PILLOW PADDING MAKES THIS THE ULTIMATE IN COMFORT AND FASHION. WE INVITE YOU TO COME INTO OUR SAN DIEGO SHOWROOM TO TRY ON A PAIR AND SEE WHAT MAKES THIS SANDAL SO SPECIAL!
Propet Vita Walker:
The Perfect Orthotic Sandal-Shoe!
Propet Vita Walker: The Perfect Orthotic Sandal-Shoe!

Ever wish you could wear an open-toe sandal, but those custom othotics of yours just won't fit. Well, here is the solution, the Vita Walker! This unique shoe has a removable foot bed that allows you to replace it with your othotics. This closed heel, open- toe design with adjustable Velcro straps, ensures a perfect fit.
Come into our San Diego showroom today to try on a pair!

FEATURES:
Comfort foot bed sandal-shoe with supple, full-grain leather
upper with leather lining
Closed-heel with removable foot bed and three adjustable straps
PU outsole provides cushion, traction and durable wear
LADIES FEATURE BOOT: THE HUSH PUPPIES "SHARLA"
THE "SHARLA" ANKLE BOOT BY HUSHPUPPIES

The Sharla is a smart ankle boot by the Hush Puppies Company. It features genuine top grain leather uppers and long wearing, slip resistant polyurethane soles. Full-length cushioned insole for day –long comfort! The uppers feature a unique double elastic gore shaft that allows the boot to give, as to eliminate a binding sensation. Tailored slightly squared toe design gives you that little extra bit of room for optimum comfort! Available in WIDE & EXTRA WIDE widths. Remember boots are a seasonal item, so this boot will only be available while supplies last.
Please stop into our San Diego and try on a pair today!
TIME TO BUY THAT CLASSIC PUMP YOU'VE ALWAYS WANTED!
The ROS HOMMERSON HALO is a classic pump you can wear for all you're dress up occasions. On the exterior you see a basic leather dress pump. On the inside is a generous foam padding and leather linings. The Ros Hommerson® Halo slip-on pump is finished with a flexible, non-slip rubber sole for a secure foundation wherever the day takes you. 2" heel.

FEATURES:
Premium Quality Leather
Leather Linings
Foam Padded in Forepart
Durable, Long-lasting Rubber Outsole
2" Heel Height
Please come into our San Diego showroom and try on a pair today!!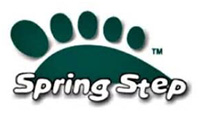 IT'S SLIPPER TIME!

Description

The special design of the Spring Step sole gives effective protection form the impact of walking. This saves the back, knees, hips and spine. This is especially important for those with foot conditions where they want to avoid the shock to the heels and foot when walking around at home on hard surfaces such as laminate, tile and stone. The sole is specially made to permanently mold to the natural shape of your feet so you have a personal fit.

Spring Step Men's Style: Adam

Classic men's loafer slipper.
Heel Height (approximately): 3/4"

*Round toe, soft textile upper, elastic goring.
*Soft textile lining.
*Soft textile padded insole.
*Rubber outsole.

Spring Step Style: Cindy

*Soft synthetic suede upper with soft textile lining.
* Polyurethane, slip-proof, anti-shock outsole.
*Spring Step Style: Cindy
*Easy to slip-on indoor/outdoor loafer slipper
*Heel Height (approximately): 1 1/4"


Introducing the "Belinda"

You'll love the ease and comfort of the Ros Hommerson® Belinda. This low boot features sleek lines and dual functioning side zippers to make for an easy, comfortable on and off. The Belinda will pamper the foot and provide all day comfort. 1" Heel. In WIDE and EXTRA WIDE widths! Come into our San Diego showroom and try on a pair today.
SAS PRESENTS THE SCENIC
A ballet flat that feels as good as it looks. Features include genuine leather uppers in a variety of colors with removable footbed that's easy to wash. Flex strips allow for added flexibility under the forepart of the shoe and a shock-absorbing sole allows for all-day comfort. Your next go-to shoe. Scenic is the flat that goes with anything so you can go anywhere. Come into the San Diego Comfort Wide Shoes showroom and try-on a pair today!!
SAS TOUR MESH A GREAT WALKING SHOE!
FEATURES:
MADE IN THE USA, that's right this shoe is American made. Everyone should support our own homegrown industries by purchasing a pair of SAS shoes (San Antonio Shoes). Keep moving in superior comfort with this active women's shoe. The EZ Lace system provides even tension across the instep as laces slide easily. A removable footbed allows for replacement with your favorite othotics, shock-absorbing midsole, and a flexible outsole keep your foot supported and cushioned. Great all around walking shoe for all seasons. W-WW widths.
Medicare / Diabetic: This style has met the standards set by Medicare. Please see your doctor for details and qualifications.
THE SAS ROAMER A CLASSIC CASUAL WALKING SHOE!
The SAS ROAMER is the ideal shoe for year round comfort and support. It features soft, genuine leather uppers in a variety of colors with a polyurethane sole that combines long wear and cushion comfort. The inside features soft linings and the exclusive SAS removable orthotic type insole that provides superior cushioning and support. Have your own custom orthotics? No problem, simply remove the insole that comes with the shoe and replace it with your own! In WIDE and EXTRA WIDE you will love the Roamer! Come into Comfort Wide Shoes today and try on pair today!
EASY SPIRIT TRAVELTIME: SLIP IN TO COMFORT!!
THE EASY SPIRIT TRAVELTIME IS THE PERFECT SHOE FOR THE LADY ON THE GO! EASY SLIP-ON STYLE PROVIDES A LEVEL OF CONVENIENCE THAT EVERYONE WILL ENJOY. GENUINE SUEDE AND BREATHABLE NYLON UPPERS, COMBINED WITH A CONTOURED ORTHOTIC TYPE FOOTBED, PROVIDE A SUPPORTIVE BUT YET COMFORTABLE FEELING! THE RUBBER OUTERSOLE IS RESILIENT AND LONG WEARING.
AVAILABLE IN BLACK, NAVY, WHITE AND NATURAL. SIZES: WIDE AND EXTRA-WIDE.
COME INTO OUR SAN DIEGO SHOWROOM AND EXPERIENCE THE EASY SPRIT "TRAVELTIME."
SPRING STEP KAYLANA: A GREAT CHOICE FOR SUMMER AND FALL!
This is a truly wonderful sandal that offers style & comfort. Hand crafted in soft genuine leather, this is a sandal that you will truly love slipping into day after day!
Features:
*Leather sandal fashioned with center elastic goring and cutout upper detailing.
*Heel Height (approximately): 2", 3/4" platform.
*Genuine leather with a nice antiqued metal buckle.
*Adjustable strap with a buckle closure.
*Leather lining.
*Leather padded removeable insole.
*Polyurethane outsole.
*Made in PORTUGAL.
The August Feature Shoe is the Easy Spirit "Romy"
Details
*Genuine Leather Uppers.
*Removable insole accommodates orthotics well.
*Available in Medium, Wide and Extra Wide.
*Unique "Walk-Run" design makes this perfect for both activities.
$69.99
THE ULTIMATE IN PODIATRIST RECOMMENDED FOOTWEAR! THE SANDAL WITH ARCH SUPPORT!
Rest Amber Features: Four points of adjustability on this backstrap sandal deliver completely customizable comfort. Two square enamel trim beads add interest to the top of the vamp.
*Manmade or natural cork uppers with microfiber-covered footbed.

*Lightweight, flexible EVA midsole absorbs shock, reducing stress on feet, ankles, and knees.

*Durable rubber outsole with a patterned tread provides traction on a variety of surfaces.

* The Orthaheel insole is built into the sandal. Received APMA Seal of Acceptance Orthaheel Technology is biomechanically designed to hug your arches and support your feet in comfort.
Vionic sandals' built-in orthotic is shown to be effective in helping to treat heel pain (plantar fasciitis). The Rest Amber is stocked in our San Diego showroom in Medium and WIDE widths, so please come in and experience the VIONIC difference in your foot comfort.
New From Spring Footwear: The 'Tender' like a "Sock with a Sole on it"
Check out these Features and Benefits of the "Tender":
1. Material is naturally soft, light, and breathable.
2. Casual and Fashionable.
3. Machine washable, removable foot bed.
4. Cushioning for Your Feet and personalized fit. Molds around bunions and hammer toes!
5. Stylish with Great Traction in any weather.
6. Genuine European Craftsmanship. Please come into our San Diego showroom to EXPERIENCE the Tender today!